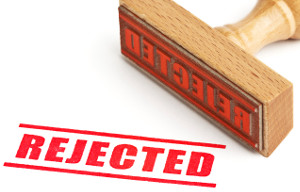 Fifteen more famously rejected writers who persevered. Can you identify who, and in some cases, what book, got rejected?
(You'll find the first 15 here.)
Answers below each group of five.
---
1. "An endless nightmare. I think the verdict would be 'Oh don't read that horrid book.'" First released in monthly serial form in 1897, and published in 1898, the book still in print today. It's spawned seven films, a TV series and a particularly famous radio broadcast directed and narrated by Orson Welles.
---
2. This author's enquiry letter was rejected by 14 agents. The fifteenth took a closer look at the book, and it was published in 2005. It debuted at #5 on the New York Times Best Seller list within a month of its release, went on to #1, and foreign rights were sold to over 26 countries. Sales to date: 17 million copies.
---
3. An "undisciplined, rambling and thoroughly amateurish" story of three young women in the turbulent post-war worlds of Broadway and Hollywood ends up selling 31 million copies.
---
4. "Too radical of a departure from traditional juvenile literature." Or perhaps not. Went on to become one of the most popular family movies of all time and sell 15 million copies
---
5. "An absurd and uninteresting fantasy which was rubbish and dull." Sold 15 million copies and is now a classic.
---
1. H G Wells, The War Of The Worlds
2. Stephanie Meyer, Twilight
3. Jacqueline Susann, Valley of the Dolls
4. L Frank Baum, The Wonderful Wizard Of Oz
5. William Golding, The Lord Of The Flies
---
6. In the author's own words: "I knew that [book name] couldn't possibly be successful. It was a first novel, and nobody reads first novels. It was a first novel about a fish, so who cares?" His publishers reject the 100 pages submitted, so the author starts again. The hardcover spends 44 weeks on The New York Times bestseller list, sells 20 million copies worldwide, and becomes a blockbuster film directed by Steven Spielberg.
---
7. "We are not interested in science fiction which deals with negative utopias. They do not sell." The author's fourth novel, but his first one published. It began life as a short story, but he tossed it out. His wife retrieved it from the garbage and told him to finish it. Sold a million copies in its first year.
---
8. "An irresponsible holiday story that will never sell." One of the many rejections of this children's classic that went on to sell 25 million copies. Much loved by President Theodore Roosevelt who wrote he had "come to accept the characters as old friends."
---
9. "Stick to teaching." This author didn't and her little books is still in print 150 years later.
---
10. This book was famously rejected by TS Eliot at Faber & Faber because of its "Trotskyite politics". The book goes on to become a best-seller.
---
6. Peter Benchley, Jaws
7. Stephen King, Carrie
8. Kenneth Grahame, The Wind In The Willows
9. Louisa May Alcott, Little Women
10. George Orwell, Animal Farm
---
11. "I rack my brains why a chap should need thirty pages to describe how he turns over in bed before going to sleep." Now a classic but still a challenge at 1.5 million words, it's divided into seven volumes.
---
12. "Hopelessly bogged down and unreadable." Finally published in 1969 , this book is now generally rated as the second best fantasy novel of all time, after The Lord of the Rings.
---
13. "Older children will not like it because its language is too difficult." This 1972 book about bunnies became one of the fastest-selling books in history
---
14. After writing for eight years and receiving 200 consecutive rejections, this book becomes a publishing sensation and wins a Pulitzer Prize Special Citation in 1977 and became an eight-part television series.
---
15. "An absurd story as romance, melodrama or record of New York high life." First published in 1925, the book received mixed reviews and sold poorly. It's author died in 1940, believing himself to be a failure and his work forgotten, but the book has since become a literary classic and is regarded as one of the great American novels.
---
11. Marcel Proust, In Search of Lost Time, AKA Remembrance of Things Past
12. Ursula K Le Guin, The Left Hand of Darkness
13. Richard Adams, Watership Down
14. Alex Haley, Roots: The Saga of an American Family
15. F Scott Fitzgerald, The Great Gatsby
---