MI5 have a problem …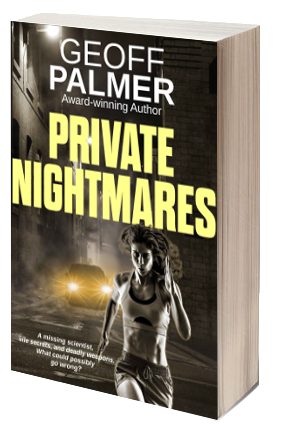 Chief weapons scientist Terence Araton is missing and they'd like him found, quickly, quietly, and without a fuss. The perfect job for private detectives Jane Child and Matt Healy of Bluebelle Investigations.
But there's more to this mysterious case than meets the eye. Shocking family secrets lurk beneath Araton's slick English facade, and Jane and Matt aren't the only ones desperate to find him. A pair of hapless crooks and some foreign intelligence agencies are using them as bait, tracking every move they make with murderous intent.
The baffling case reopens old wounds, and soon Matt is battling demons of his past – as well as the ruthless villains chasing them. Then Jane makes a chilling discovery, forcing her to face her own worst nightmare: an impossible life or death, hair-trigger situation where she must make a snap decision and, just possibly, save the world.
---
Prepare to be nailed to your seat by another heart-pounding, hair-raising, high-octane thriller in the best Bluebelle Investigations tradition.
---