Last Sunday, UK comedian Joe Lycett announced on Twitter that he had changed his name by deed poll to Hugo Boss. Lycett (now Boss) did so because the well-known fashion brand was sending cease and desist letters to small businesses and charities who used the word "Boss" in their names, costing them thousands of pounds in legal and rebranding costs.
"It's clear that @HUGOBOSS HATES people using their name. Unfortunately for them this week I legally changed my name by deed poll and I am now officially known as Hugo Boss. All future statements from me are not from Joe Lycett but from Hugo Boss. Enjoy."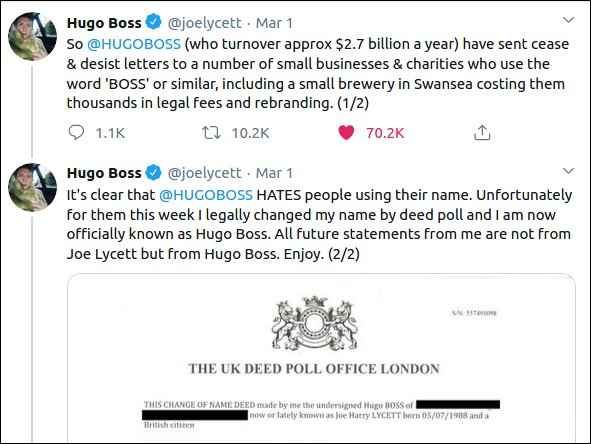 The most recent victim was a small Welsh brewery. After applying for a trademark for Boss Brewing – a process that normally costs £300 – legal challenges from Hugo Boss (the company) left them with a £10,000 bill.
In 2018, a charity called DarkGirlBoss was threatened with "formal action" if they didn't drop the word 'boss' from their name.
Hugo Boss (the company) was founded in Germany in 1924, and notoriously produced and supplied uniforms to the Nazis. In 2011, the company apologised for using forced Polish and French labour during the second world war.
To add to the fun, Boss (formerly Lycett) has created a new website called thehugoboss.com where he states: "Just to clarify these are the statements of Hugo Boss, not of Hugo Boss." That's just as well because he also states that "Hugo Boss has a smelly bum bum" and, regarding toilet etiquette, "Hugo Boss doesn't flush unless it's his own house."
And he's also changed his signature …