Forget the Oscars. The finalists for the 38th Diagram Prize for Oddest Book Title of the Year have been announced. The seven finalists are:
Behind the Binoculars: Interviews with Acclaimed Birdwatchers
Paper Folding with Children (A craft book that appears to assume children are extremely flexible.)
Reading from Behind: A Cultural History of the Anus
Reading the Liver: Papyrological Texts on Ancient Greek Extispicy (An academic study on sacrificial sheep.)
Soviet Bus Stops
Too Naked for the Nazis (A biography of a musical hall troupe.)
Transvestite Vampire Biker Nuns from Outer Space: A Consideration of Cult Film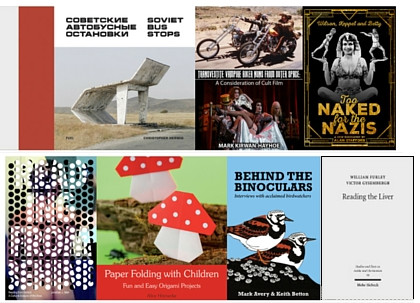 The award was originally conceived in 1978 as a way to avoid boredom at the annual Frankfurt Book Fair. There's no ceremony or monetary prize for the winner, but a "passable bottle of claret" is given to the person who nominates the winning entry.
Previous winners have included:
Proceedings of the Second International Workshop on Nude Mice (1978)
The Joy of Chickens (1980)
How to Shit in the Woods: An Environmentally Sound Approach to a Lost Art (1989)
Highlights in the History of Concrete (1994)
Living with Crazy Buttocks (2002)
The Big Book of Lesbian Horse Stories (2003)
The Stray Shopping Carts of Eastern North America: A Guide to Field Identification (2006)
Cooking with Poo (2011)
Strangers Have the Best Candy (2014)
Voting is now open to the public until Tuesday, March 15.