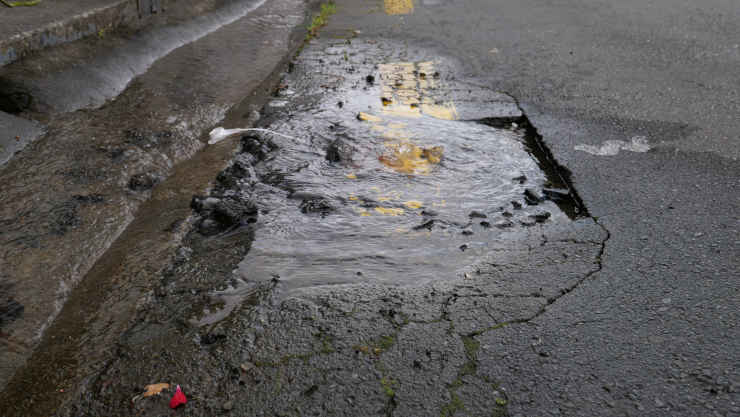 For those of you waiting with baited breath for news about the Moir Street Fountain, well… there is no news. It's been 118 days now — and an estimated loss of 1.7 million litres of water — but apart from the appearance of two orange traffic cones more than a fortnight ago there has been no progress.
But, like rust, water never sleeps, and, as you'll see from the photograph above, the road is now giving way.
(That odd white streamer and plastic spool, by the way, appears to be the tail end of a roll of plumber's tape used for sealing pipe joints. I went to move it for the photograph, but, it appears to have been dislodged from bowels of toby and one end is either wedged or still attached to whatever it was ineffectually sealing. Either way, I didn't fancy tugging on it in case the fountain became a geyser.)
On a more positive note, I noticed this on the Wellington City Council's road maintenance website…

I'm just hoping that two-and-a-half-week duration is just a starting window, not the time it will take to make the repairs — especially as they've already missed the start date!
And on another positive note, a neighbour was told last week that repairs would start today (Monday), and that nearby residents were being sent notifications. This particular resident has received nothing, but I'm probably persona non grata for making a fuss about the waste. Still, here's the scene at 8:00 am this morning. The street is ready and waiting for you Wellington Water…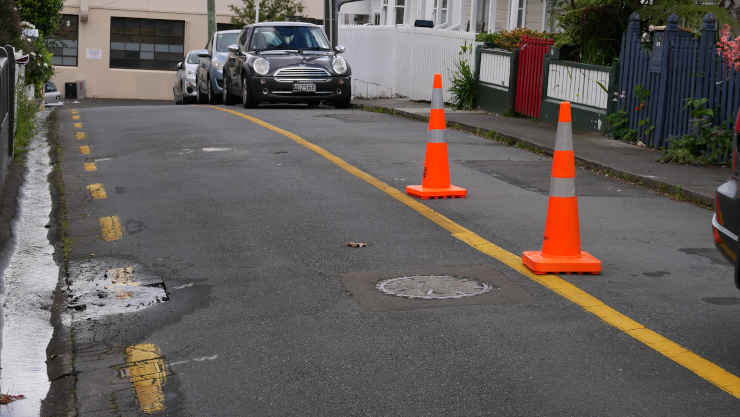 And for those of you new to the story, previously recounted here and here, here's a timeline of events so far…
27 July – Leak reported.
24 September (Day 60) – Wellington Water examine the leak. 'Yep, it's leaking.'
01 November (Day 98) – Wellington Water return and place two traffic cones, presumably to reserve a park for their truck which never returns. A neighbour, concerned the road is collapsing under the leak, places one of the cones over the leak to stop cars adding to the damage.
21 November (Day 118) – watch this space!

[Posted at 10:30, 21 November 2022]
---